It was raining again today. Too bad we couldn't go outside again.
The Butterfly kids had their English lesson today. The kids first played a game to refresh their memories on the animals they'd learnt so far. They had to jump and say the word and when they finally made it to the last animal, they had to touch the next person who would then go on and continue jumping and saying the word.
After that, we decided to test out to see if any of the kids had any hidden psychic powers in them. So we put the pictures upside down and then let the kids guess the picture! The teacher would pick a picture and ask, "What's this?" and then the kid would have to guess, "This is a... bird!" or "This is a... tiger!" and so on and so forth. Only one kid from Nensho managed to guess correctly. I guess she's got some psychic power in her haha.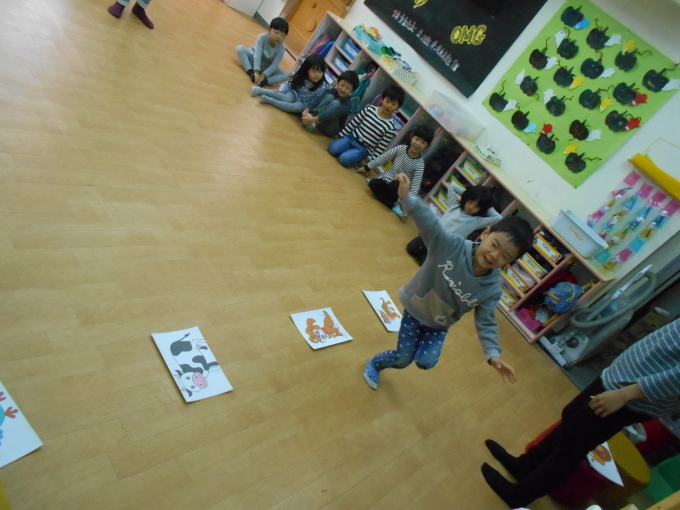 Well we didn't have much time for everyone to try it out but let's play it again next time!
Meanwhile the Caterpillar kids played with colours!
They learnt to identify and recognize the correct colour. The kids had to listen and then get the right objects.
Most of the 2-years-old kids were fine but the 1-year-olds were having slight difficulty to remember all the words that represent colours.
It was fun though!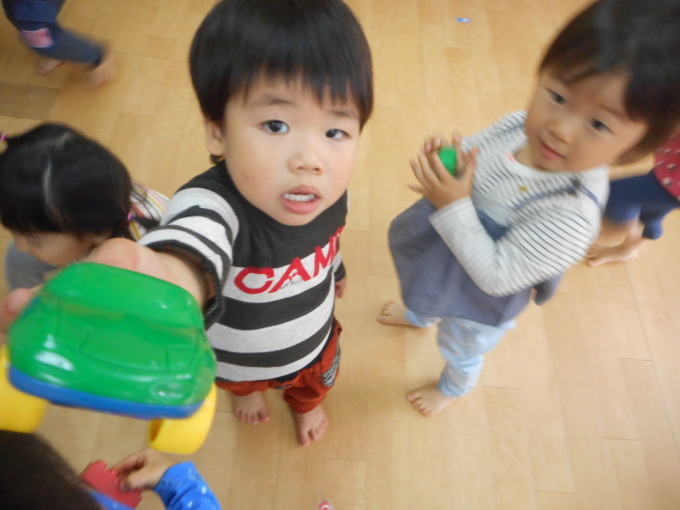 Aina
午後はキャタピラーさんはArtをしました★今日のArtでは11月に行われるサンクスギビングに
使用する予定の「ターキー」をみんなで作りました!!
折り紙を自分でちぎったり、目やくちばしを糊でつけたりと一人で行なう作業が多かったですが
飽きずに頑張っていました(*^_^*)同じパーツをつかっても不思議とまったく雰囲気の違うターキーが
出来上がりました♪♪糊を使う量の調節がなかなか難しく葛藤している子ども達でした(笑)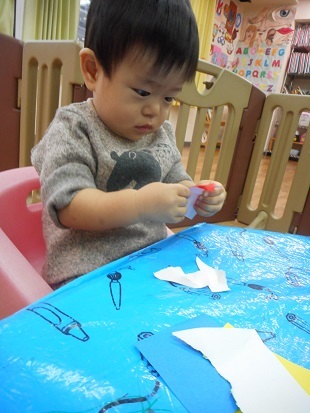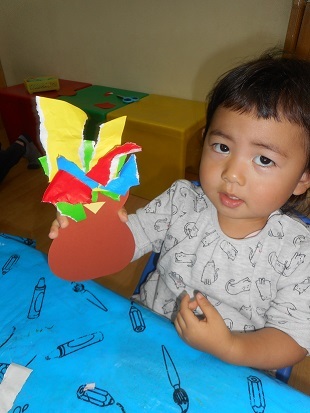 バタフライさんは、Freetimeで以前作ったハロウィンイベントで使用する
おばけの装飾の続きをしました★作る物がいっぱいのバタフライさんですが、
集中してそれぞれ取り組んでいました\(^o^)/
その後は、ハンカチ落としゲームをして遊びました♪
雨でなかなか体を動かして遊べない日が続いていますが、みんな必死に
追いかけ、座るので良い運動になりました(笑)♪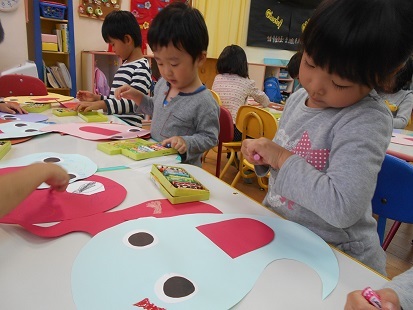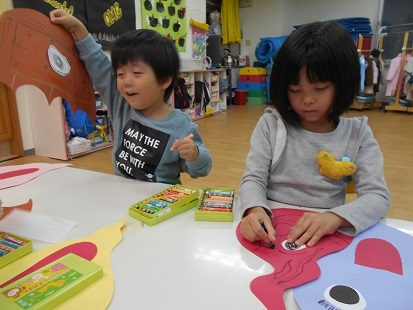 Mai