It's the Perfect Weather to Play on a Sunny Autumn Day!
2019年 11月 05日
This morning Caterpillar class walked all the way to the big park near the Kindergarten to have fun and play in the sun. We went to a ledge where they could run, climb and play with rocks. Some had fun chasing each other (and the teachers!), others enjoyed testing themselves by climbing up and down the ledge, whilst many enjoys using their imagination and pretending that the rocks were different foods to be cooked, served up and eaten! It's always a wonderful thing to see how quickly and vividly the children are willing and able to use their imagination to turn even something as mundane as a rock into a plaything able to captivate them for hours.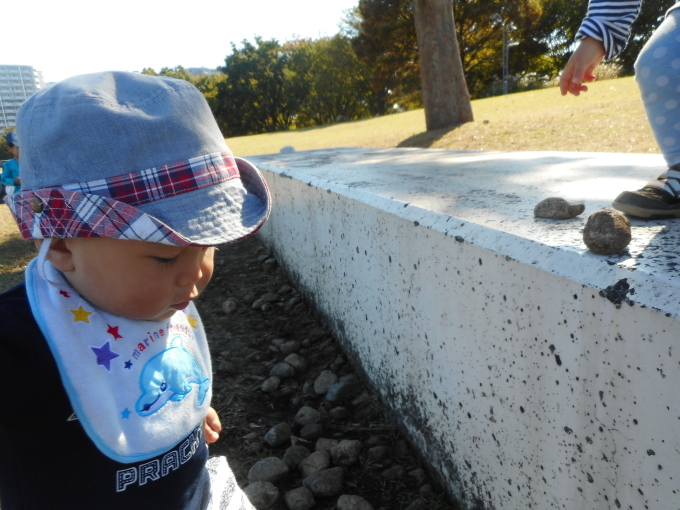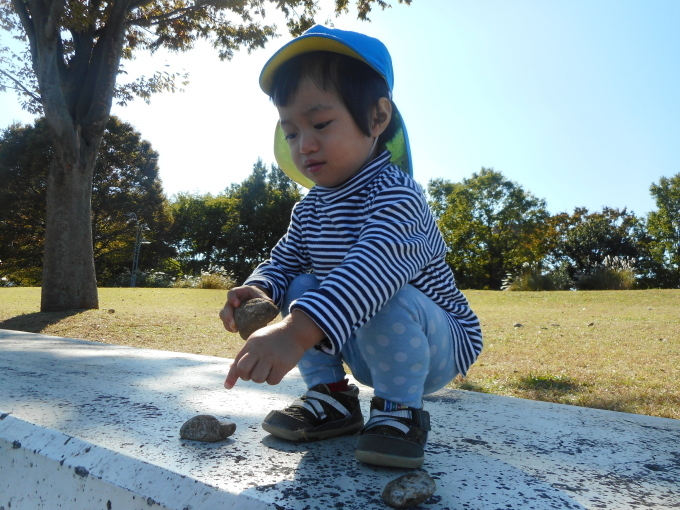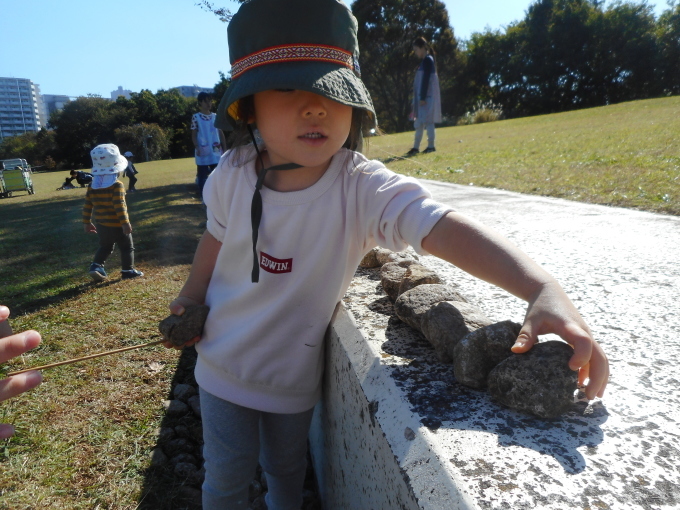 This afternoon Caterpillar class had their English lesson. We started with a recap of colours by singing the some 'Find Something Pink' whilst searching around the classroom for different colours. After the warm up we started our delicious new monthly topic, food! Today we learned four common food items (meat, fish, rice and vegetables), after enthusiastically practicing saying the words out loud numerous times we moved onto a couple of games. The first game was 'Waiter Waiter!', in this game two children are given plates, the teacher then asks for some food ('I want fish please', for example). Two children then race to get the item first, put it on the plate and serve it to the teacher with a 'Here you are!' and a big smile. After this heated competitive game we moved onto another game where we can all have fun together. In this game pictures of the 4 new words were places around the classroom and as the teacher says the word the children all run to the picture. The game is a great way to recap and get everyone moving and enjoying themselves.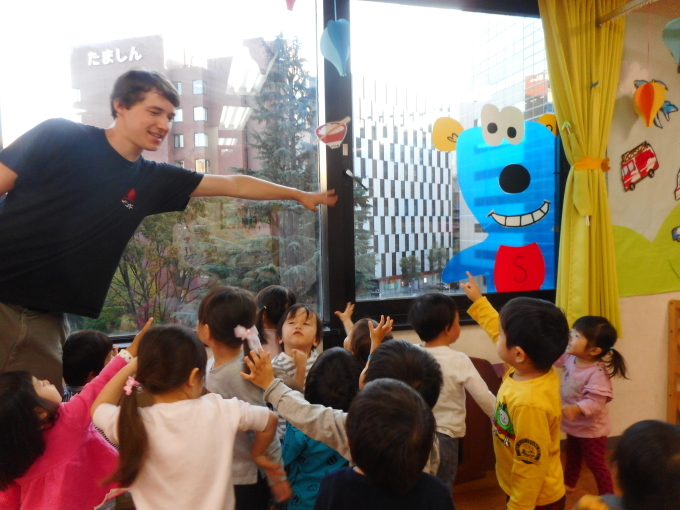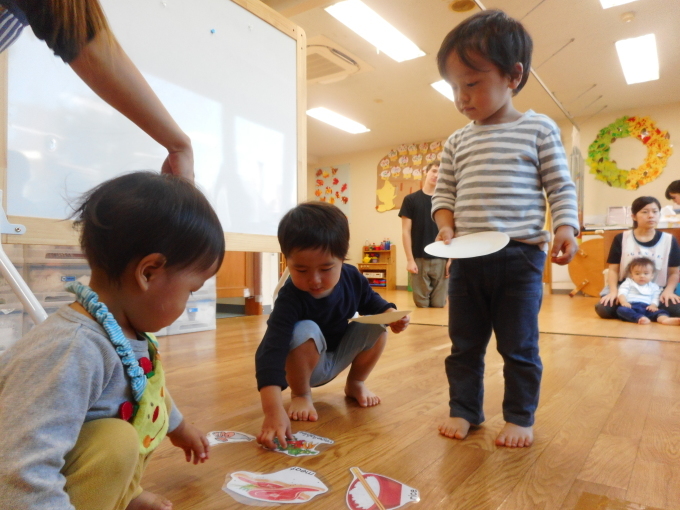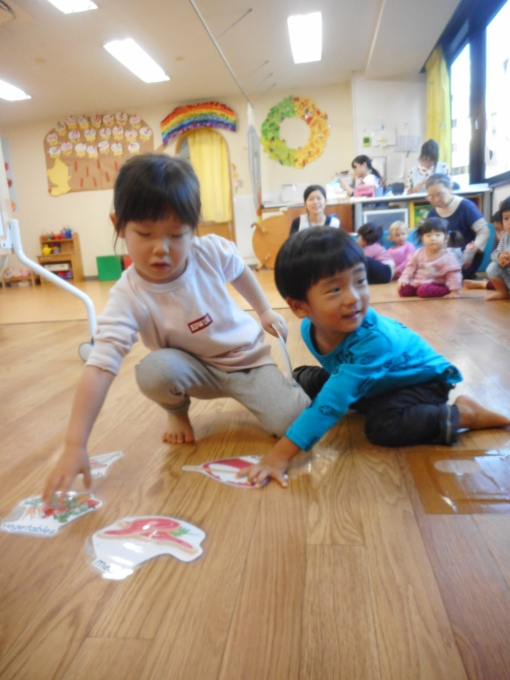 Jordan

バタフライさんは午前中リトミックをしました♪
音楽に合わせて手拍子したり楽器を鳴らしたり、全身を使って表現することを楽しむ子ども達(#^^#)
今日はEriko先生が秋の曲をたくさん弾いてくれたので、馴染みのあるメロディーに子ども達も「この曲知ってるー!」「歌ったことあるよね!」と大喜びでした♪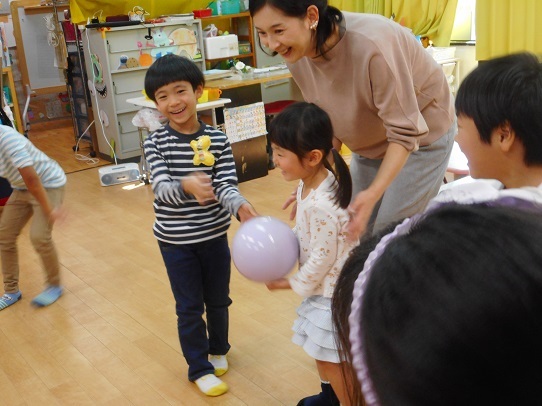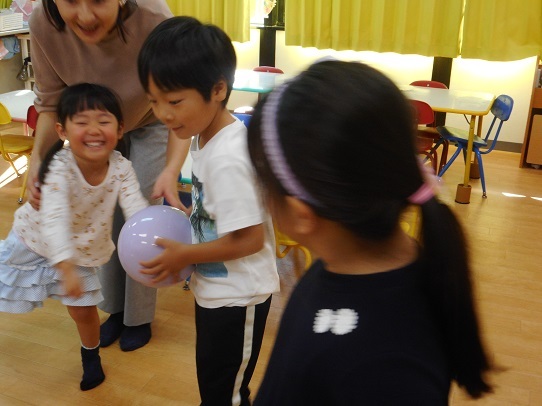 午後はArtでクリスマスのスノードームを作りました☆
まだ11月ですがすくすくではすでにクリスマスに向けた準備が始まっています!
細かいスパンコールを見て「クリスマスだから星がいいかなぁ」と自分なりのイメージで作品作りを楽しんでいました(#^^#)
特に糊の使い方では慎重に適量を使うことができ、その成長を大きく感じることができました♪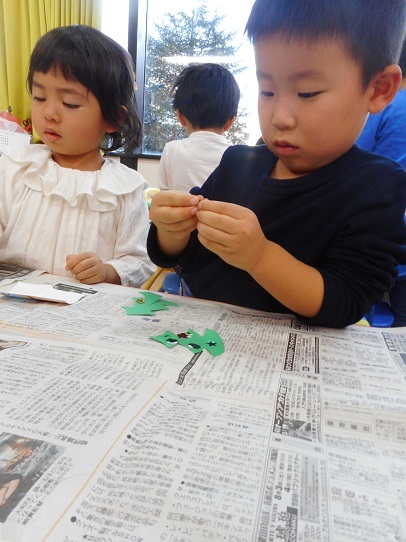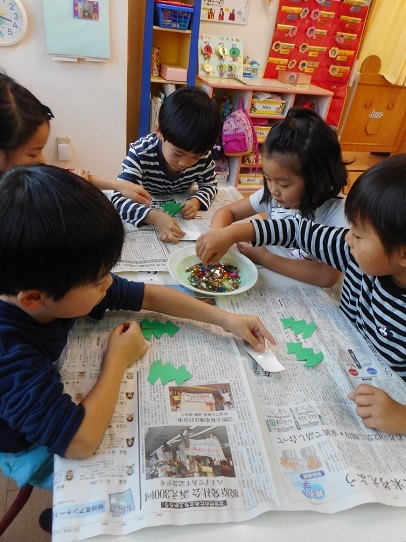 *Akiko*