HAPPY THANKSGIVING!!!
2019年 11月 28日
Today we celebrated the classic American holiday Thanksgiving, a day to be grateful for all the food, warmth and friendship that we so often take for granted, an opportunity to indulge in some delicious food and come together with friends and family. We started the event with a puppet show, to introduce everyone to the story of Thanksgiving, when English pilgrims arrived at Plymouth Rock, hungry and cold, and were helped by some friendly natives who gave them food and shelter, in return once they had a bountiful harvest they shared it with the people who had shown them such kindness.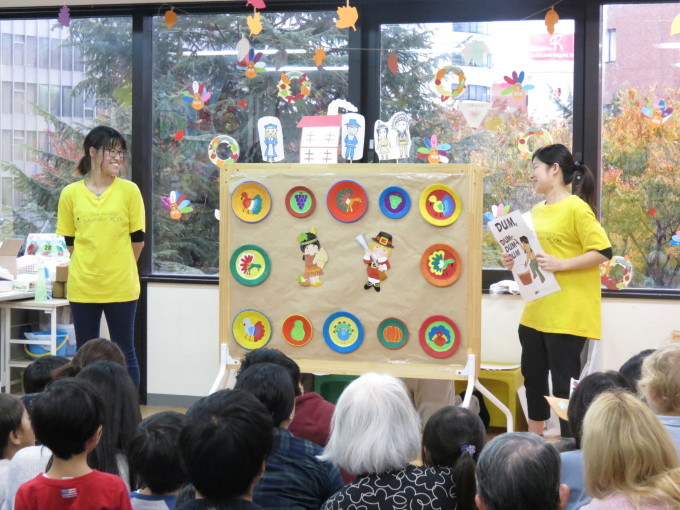 Afterwards we had two crafts for all of the children to enjoy. One was to make a cute turkey, using a pinecone, some decorations and a little glue, we stuck feathers, eyes, a beak and the characteristic jowl onto the adorable little creature.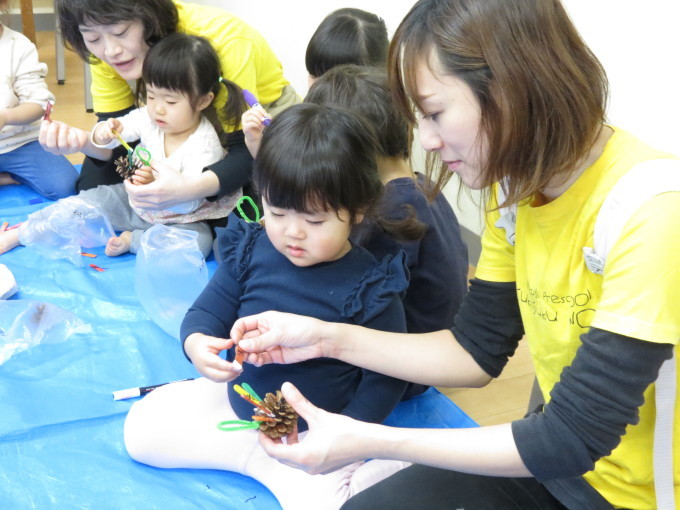 The other craft the children were to enjoy was something they would come to need the use of very soon. A custom tray, ready for them to use with their big Thanksgiving meal at lunch time. The children had a turkey they had made using their footprint and a photo of them with their family, among other decorations and some coloured markers. Everyone had a great time customising their lunch trays however they wanted.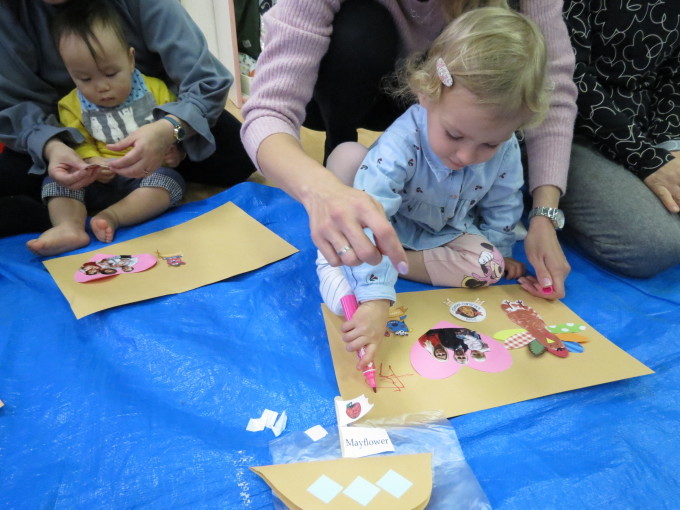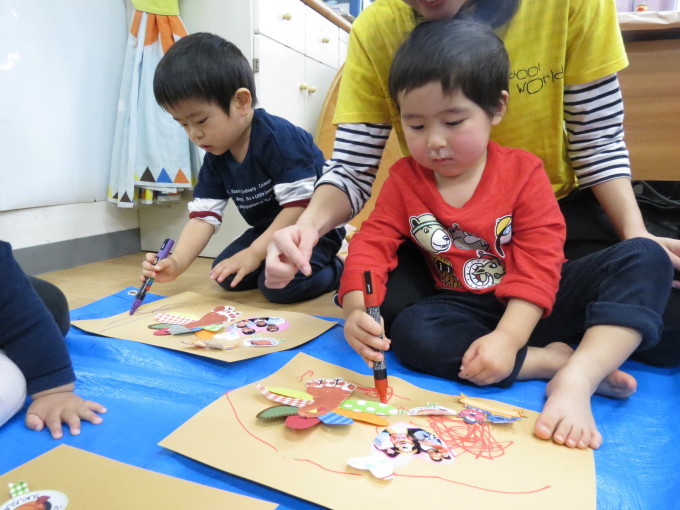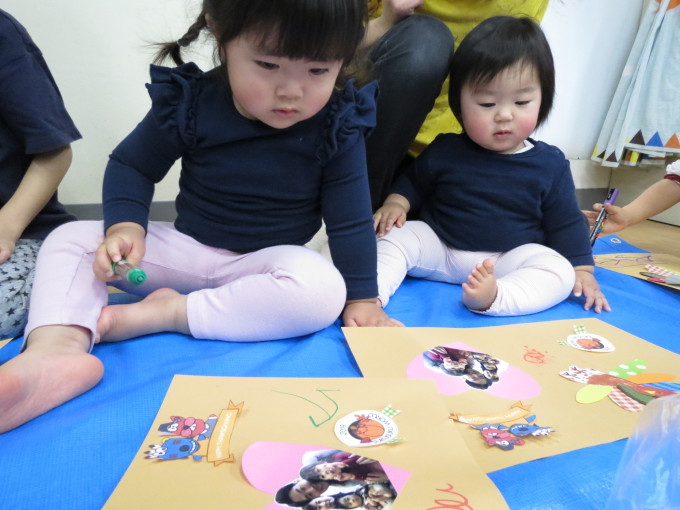 After our two crafts, and a short thanksgiving story we all came together to have some fun with a game. Seeing as the children had been assigned two teams (apple and pear) they were to race to see who could pass the thanksgiving plate around the fastest, but they had to take care not to drop the turkey, tomatoes or lettuce from the tray!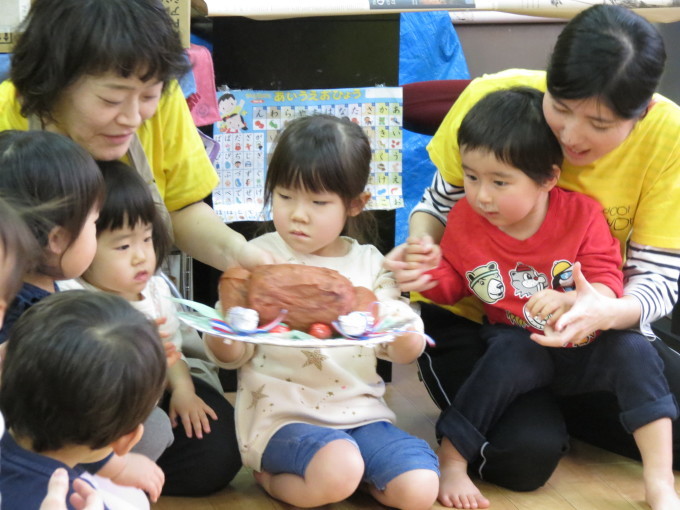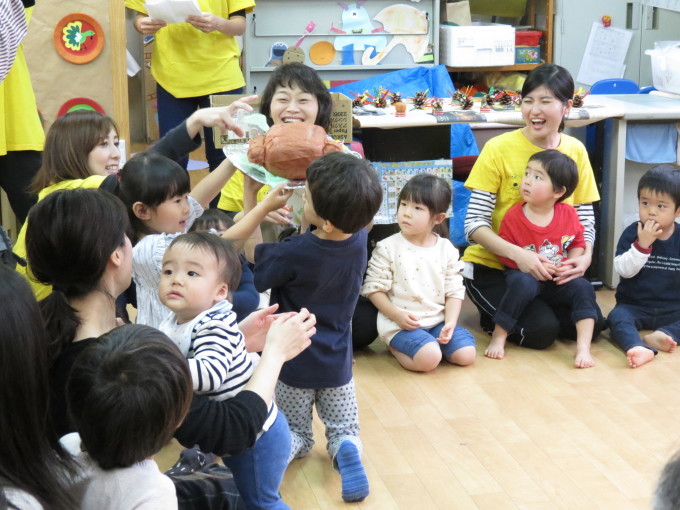 We then got to see the world through the eyes of the turkey with the classic turkey dance! The song starts out slowly but eventually the simple dance descends into chaos as the tempo speeds up and everyone tries to keep up!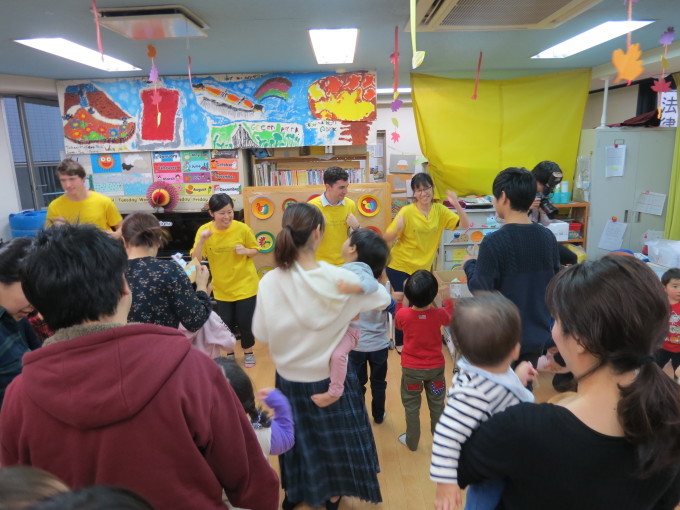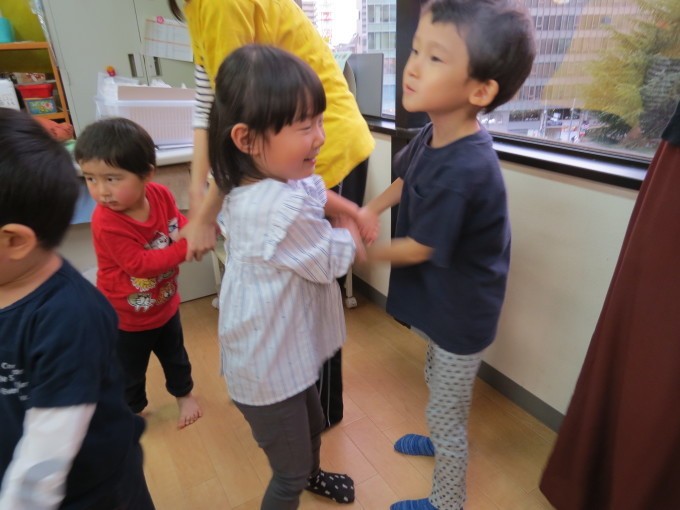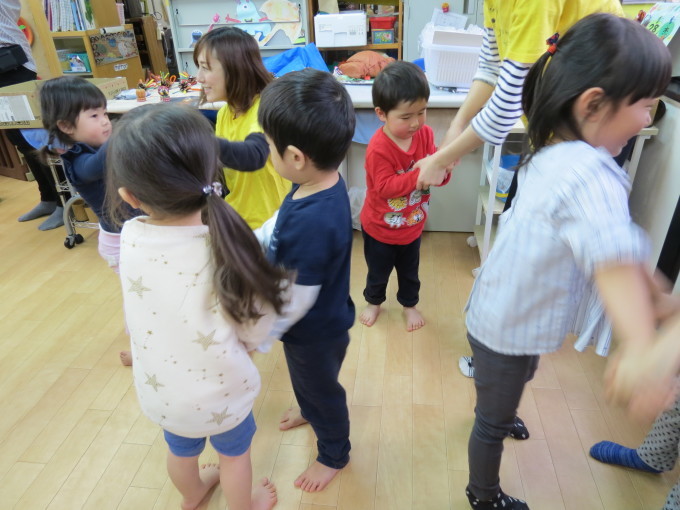 Finally, the main event, the feast! We had turkey with stuffing, cranberry juice and gravy, shepherd's pie, corn bread, and corn soup, followed by pumpkin pie with some fruit! With full bellies we happily brought our thanksgiving event to an end.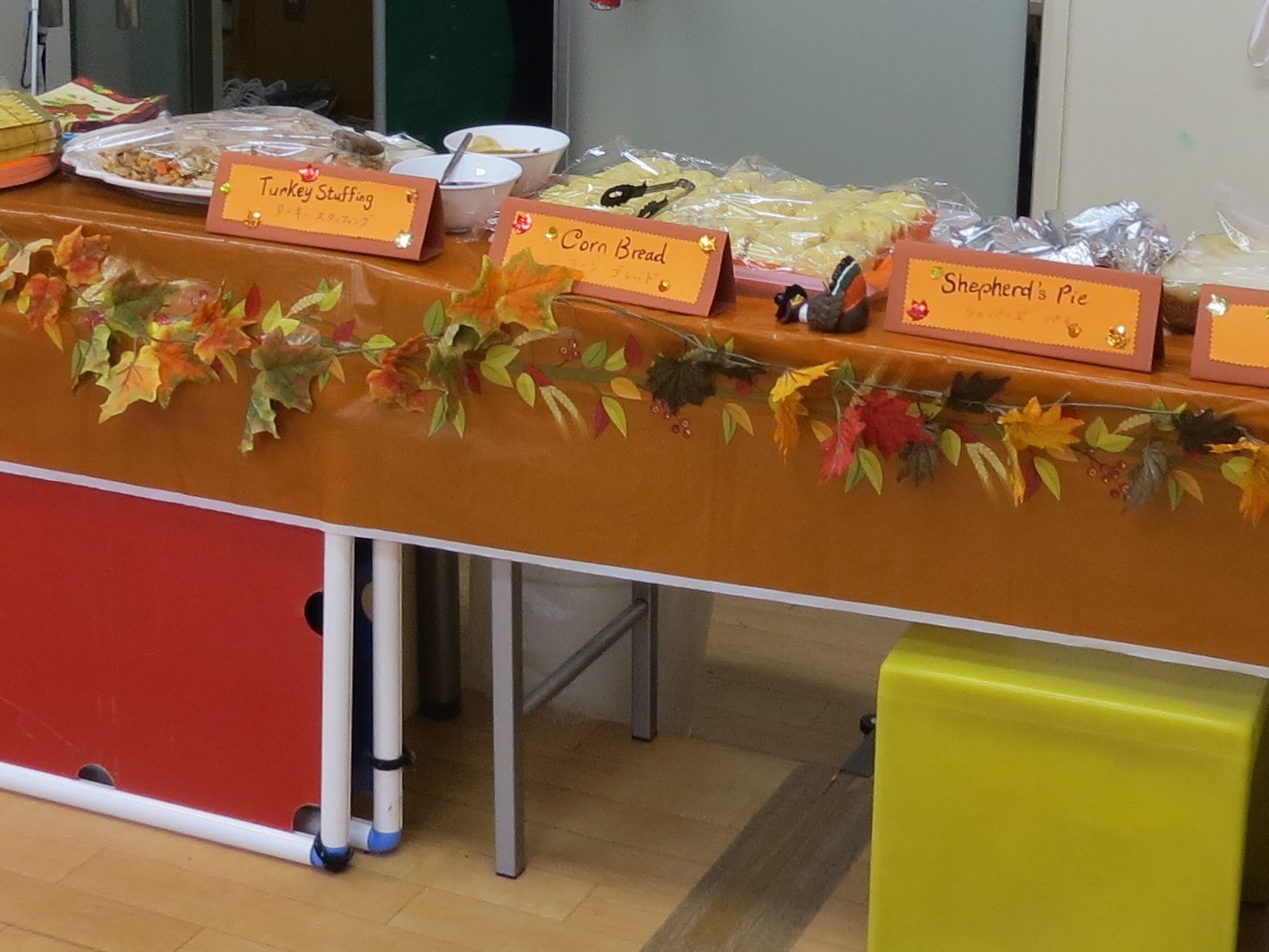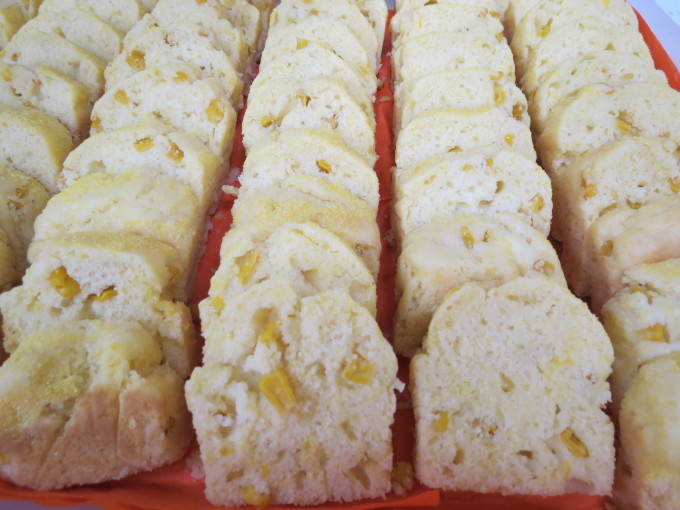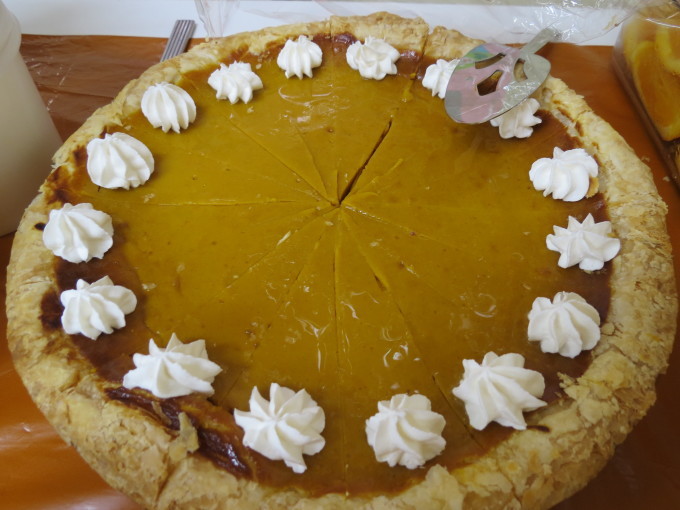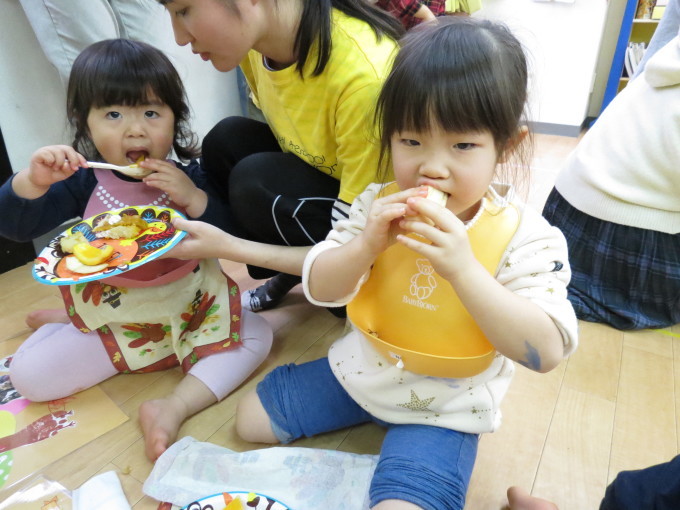 We are thankful for all of the wonderful people we shared the event with, big and small. Happy Thanksgiving!
Jordan

今日はThanksgivingイベントでした!
ペープサートでThanksgivingの歴史を知った後は
二つのチームに分かれてArtをしました。
松ぼっくりを使ったターキーを作りでは、アロマを使用しました。
並んだ作品をみて「いいにおい~!」と目をキラさせる子達もいました🎵
その後はチームで円になってターキーを運ぶゲームをしました。
大急ぎで大きなお皿にのったターキーをお隣に渡さなくてはいけません!
落としてしまってみんなのランチがなくなってしまっては大変なので、
先生が紙で作ったニセモノのターキーでした(笑)
ですが、付け合わせのトマトが転がり落ちてしまったり、
ターキーがずり落ちてしまったり、なかなか難しい…!
「がんばれー!!」と応援の声が飛び交い、大盛り上がりでした。
その後はターキーダンスをみんなで踊ってお待ちかねのランチタイム♪
おなかいっぱい食べて、大人も子供も大満足のイベントとなりました☆彡
Yayoi